Popped down to the Vancouver Art Gallery Shop yesterday and just want to assure everyone who is still desperately trying to get hold of one of my 2018 calendars that The VAG shop has quite a few left in stock - both the Small Coil Bound style and the Wall calendar.  Get them before they're gone from there too!
---
I have officially sold out of both  2018 Wall and Small Coil Bound Calendars now! Many Thanks to all who continue to wait for and then buy my calendars each year.  I love hearing your stories about how the calendars fit in exactly the right spot in your homes or of the friend or relative who threatens to ex-communicate you should you forget to send them one each year! For those who are still looking to get my calendar for 2018, The Vancouver Art gallery Shop still has a few and you may also try 32 Books in Edgemont Village or Chocolate...
---
Small Coil Bound 2018 Calendars sold out!
---
• Christmas • festivals • News • shows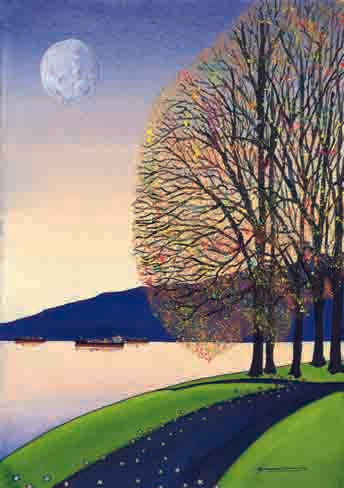 The Holiday Season is fast approaching and I will only be doing one major Christmas Show this year but my work will be available in many locations .  If you have trouble finding my Christmas Cards or Calendars please contact me directly or pop by the studio on Granville Island. Here's my Show Schedule between now and Christmas: Circle Craft Christmas Market - BOOTH 142 DATES Wed, November 8Thurs, November 9Fri, November 10Sat, November 11Sun, November 12  HOURS  Wednesday 10am - 9pmThursday 10am - 9pmFriday 10am - 9pmSaturday 10am - 7pmSunday 10am - 5pm VENUE Vancouver Convention Centre West1055 Canada...
---
Huddled here in the studio as the rain beats down outside, It is easy to feel melancholy. Still, when the rain subsides (if only for a short while) I marvel at the amazing colours of Autumn - clinging to the trees and washing along the roads towards clogged drains.  Autumn is by far my favourite season - and luckily this year I was able to briefly see it draping the beautiful hillsides of Swaledale, in Yorkshire, where my sister and I took my Mum for a long weekend.  We spent our childhood holidays clambering about on those hillsides and splashing in the...